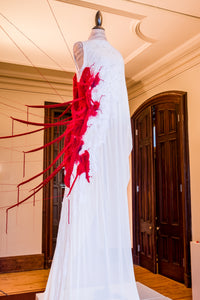 Artist Statement: For this installation, I wanted to hit on our vulnerabilities and inner truth, inner dialogue. We all know what the last two years have done for us individually but do we know how our neighbors and community were affected? Do we know how they feel? Is it similar to how I may feel right now? My life as a creator feels raw and bleeding. It's bleeding into every part of me. I'm wearing an all white dress and my insides are literally spilling and exploding out onto the floor and wall. I'm being vulnerable in sharing what's been...
---
• Globe Theater • LA • oddities Flea market • OdditiesFlea
I cannot wait to get back to LA! You'll find me in the lower floor of the Theater this time. I'm bringing a selection of Fashion and Home Decor pieces. I'll also be doing a bit of Tarot so be prepared with some questions or topics my friends. I also have one day to see LA outside the show. Currently I have CakeLand on the list. Is there anything else I must see? Respond below See you soon!!
---
• horseheads library • library • library kits
Nunofelted Scarf Kits for Horseheads Library ShannahWarwick@gmail.com www.blckbts.com In addition to your kit, you will need: -a flat table or surface to work on that can get wet -bowl for cold and hot water -dish soap like Dawn original -watering can preferably one with a sprinkle nozzle -towels Optional: ball brause (little easier to use then a watering can) Felting Instruction There are two main different types of felting; traditional and nuno or wet felting. The biggest difference between the two is that traditional felting uses all wool and nuno felting uses wool and a base fabric. For both types...
---
• Darksome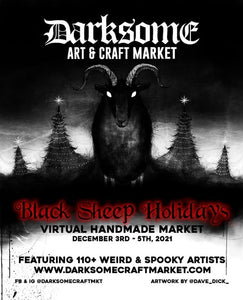 It seems like y'all might be interested in a few seal perks of what I'll be adding to my Shop on Dec 3rd at Noon EST for Darksome Arts Virtual Black Sheep Market...so I'll start adding images of the pieces here!   
---
• california • la • los angeles • oddities Flea market • OdditiesFlea
Hello friends, I am super excited and a tiny bit nervous (but they are the same emotions right?) to bring BlckBts to Los Angeles